The Itria Valley welcomes the visitor with unparalleled expanses of olive trees, trees born from a red earth that perfumes and makes the panorama a succession of wonderful chromatic effects.
Also known as the Valle dei Trulli, it extends between the Apulian provinces of Bari, Brindisi and Taranto and includes the municipalities of Alberobello, Carovigno, Castellana Grotte, Ceglie Messapica, Cisternino, Fasano, Locorotondo, Martina Franca, Noci, Ostuni, Putignano, San Michele Salentino, San Vito dei Normanni and Villa Castelli.
It may be due to the white buildings or the vegetation that frames them, but every village, every village in the valley, is surrounded by a magical, almost fairytale atmosphere.
Ostuni stands out among the beautiful villages of the Itria Valley, a place where Tenuta Mastro Francesco is located.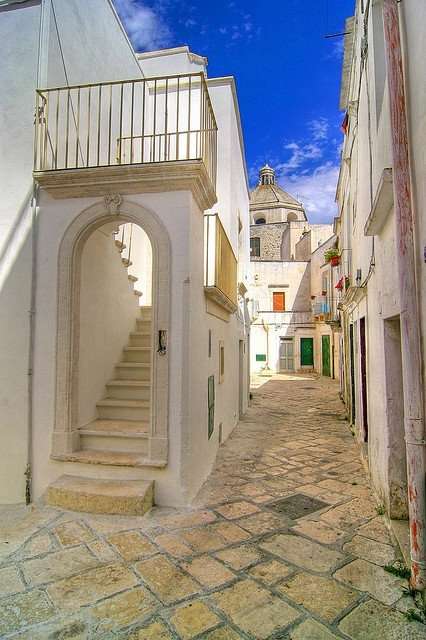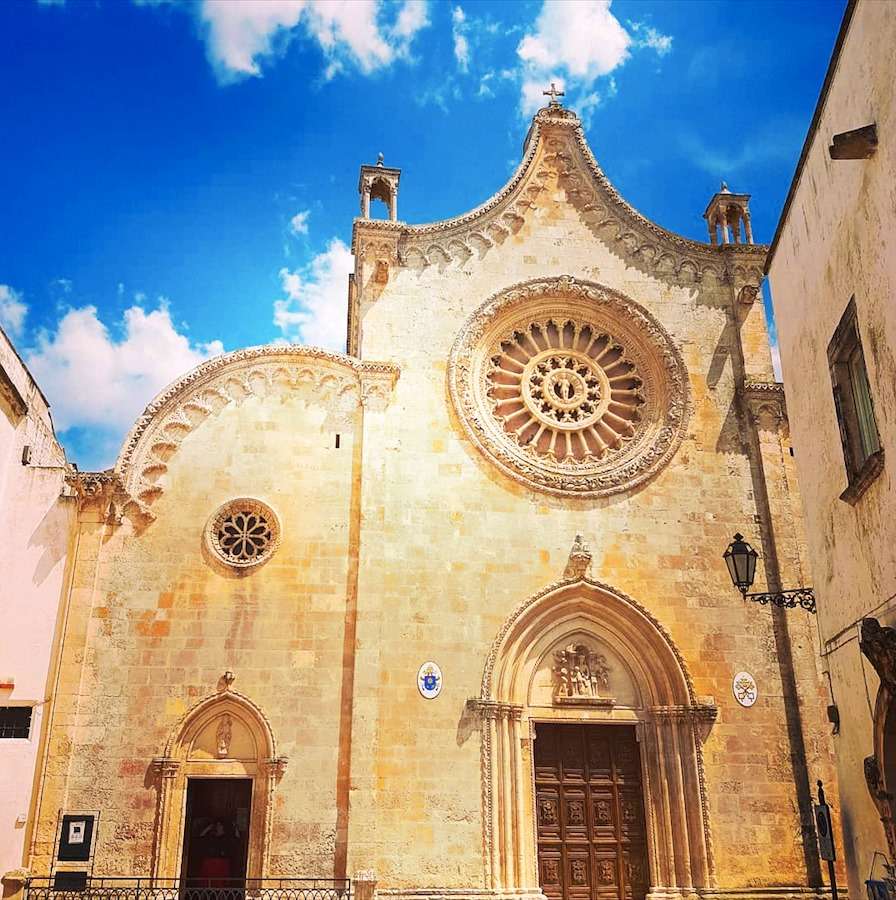 Ostuni is unmistakable for the blinding single color of its inhabited area, rigorously white; therefore it is called "the White City".
It is also called "City Nativity" because its ancient nucleus is climbed on the steep sides of a hill and surrounded by eight Aragonese towers and is a fascinating tangle of narrow and winding streets, a succession of courtyards, squares and alleys that make it a magical place.
On the top of the highest hill in the urban area, where the ancient nucleus stands, the monumental Cathedral and the Bishop's Palace stand out.
The area is extremely valuable also from an environmental and naturalistic point of view, full of woods and Mediterranean scrub alternating with numerous vineyards from which excellent white wines are obtained, including Locorotondo DOC and Martina Franca DOC, and ancient olive groves from which the famous extra virgin olive oil is produced.
The protected natural areas are also magnificent, such as the Bosco delle Pianelle di Martina Franca and the Selva di Fasano between the municipalities of Locorotondo and Fasano.
The fauna is also valuable, characterized by the large presence of hares, foxes, hedgehogs, robins, fallow deer, squirrels, hawks and various nocturnal birds of prey.
The skies are furrowed by numerous species of migratory birds such as the beautiful white storks, cranes, mallards and starlings.
In short, whether you are lovers of historical and architectural beauties, or you are looking for the truest and most uncontaminated nature, Puglia and the Itria Valley in particular, will be able to give you unforgettable experiences and memories and Tenuta Mastro Francesco, for its strategic position will be an excellent solution for discovering the wonders of this land.
Tenuta Mastro Francesco is able to offer three distinct exclusive villas, each with its own private swimming pool and equipped with a water purification system that make it extremely safe.
The large spaces available guarantee absolute comfort and relaxation and adequate social distancing for the maximum tranquility of its guests!
Do not miss the opportunity to be our guest, check the availability of our exclusive villas with private swimming pool!
Book now your holiday at Tenuta Mastro Francesco to admire all the beauties that Puglia offers its visitors! You can choose between three magnificent holiday homes located near the magnificent city of Ostuni (BR), for years awarded with the recognition of the Blue Flag and the Five Sails of Legambiente for the services it offers to tourists and for the cleaning of its beaches:
Trullo Mastro Francesco, for 9 people, beautiful trullo with lamia and heated pool to spend magical moments with your family or friends
Villa Falgheri, for 7 people, with panoramic terrace and swimming pool to give you a relaxing holiday
Antica Pietra, for 5 people, wonderful villa with 2 wonderful private pools (large and small), ideal for your holiday in Puglia with the family